I am very fortunate that none of my children are fussy eaters and happily eat a wide range of fruits, vegetables, pulses and grains without complaint. Our eldest went through a fussy eating phase when she was around 3 years old but that was brief, thankfully. So far there haven't been any teenage food fussiness phases, fingers crossed. It did make me think about how I would persuade my teen, and preteen, to go back to their previously unfussy ways should they suddenly develop aversions to their usual varied diet.
Here are the tips I came up with:
Appeal to their vanity, let them know that fruits and vegetables contain vitamins and minerals that are great for healthy hair, nails and skin.
Mix familiar and unfamiliar vegetables. Why not mix some sweet potato with normal potato mash, or add some extra vegetables to stews and bolognese. You may need to be sneaky and blitz the vegetables into sauces, depending on the level of aversion and fussiness.
Smoothies are great for getting fruit, and sneaky vegetables, into our diets. I usually use at least two portions of vegetables to each portion of fruit and add dates for sweetness rather than honey or refined sugar.
Let children help with meal preparation. If they help make it they are much more likely to eat it.
Try raw, steamed, roasted or stir fried vegetables. It may be that children prefer the taste and texture of vegetables cooked a certain way or uncooked. Experiment to find what suits and go from there.
If you have other great tips and pearls of wisdom I would love to hear them, please leave a comment below. Lovely Jo is hosting a Twitter party on this very subject with prizes to be won!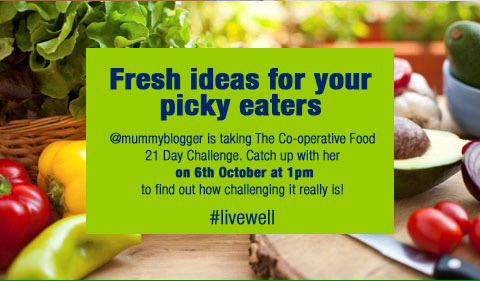 Vegetable and Cheese Bites
My 3 daughters and I baked these as lunchbox fillers, packed with vegetables they are a flavoursome and healthy snack. Even baby boy enjoyed one for his lunch, fab for baby led weaning too.
70g butter, cubed
110g self-raising flour
60g grated cheese, I used mature cheddar
80g grated courgette
80g grated butternut squash
1 pepper, finely diced, any colour will do but I used red
1 free range egg
1 tsp dried mixed herbs
Preheat your oven to 190C/170C Fan. Line a baking tray with baking paper.
Rub the butter into the flour until it resembles breadcrumbs. Mix in the vegetables and cheese so they are coated in the flour mixture. Add the egg and mix until completely incorporated. Make 8 - 10 patties from the mixture and place on your prepared baking tray. Sprinkle a little extra grated cheese over the top. Bake in your preheated oven for 15-20 minutes until golden and cooked through, and the cheese on top is bubbling and melted.
Follow The Co-Operative on
Twitter
,
Facebook
,
Instagram
and
Pinterest
for recipe inspiration and latest food news.